Annual Meeting 2019
Please join us for our 2019 Annual Meeting, held on Sunday, November 17th at 5p.m., at Wee Burn Country Club.
Jillian Bell from the CT Audubon Society will be our keynote speaker, sharing her knowledge about the Important Bird Areas (IBA's) program and also touching on the importance of DLT properties to birds. CT ranks sixth in the U.S. in terms of bird watching interest!
Refreshments and drinks will be available after the meeting.
Posted on Thursday, October 10, 2019
Before The Flood
Film Screening & Discussion: "Before the Flood"
Wednesday, November 13, 2019
7:00 pm - 8:45 pm
Darien Library, Community Room
(2016) From Academy Award®-winning filmmaker Fisher Stevens, starring Leonardo DiCaprio, Ki-moon Ban (the eighth Secretary-General of the United Nations), Alejandro G. Iñárritu; Rated PG for thematic elements, some nude and suggestive art images, language and brief smoking; 96 Minutes; Presented with captions for the hearing impaired.
Actor Leonardo DiCaprio meets with scientists, activists and world leaders to discuss the dangers of climate change and possible solutions.
For more information, please click here for the film's trailer.
Co-Sponsored with The Darien Land Trust and The Darien Nature Center.
Farm To Table Thank You
Thank you to everyone who joined us for our 5th Annual Farm to Table Dinner on Saturday night!
CLICK HERE TO VIEW PHOTOS OF THE EVENT
Another sold-out event, 250 guests enjoyed cocktails, dinner and dancing with live music in our beautifully preserved meadow - Waterbury Field.
This special evening is our way of thanking our loyal supporters and celebrating the nearly 220 acres of land that the Darien Land Trust preserves and protects for our community.
A big thank you to Co-Chairs Michelle Imbrogno and Amy Sarbinowski, and to our executive Director Elizabeth Harmon, Committee Members Janet Cling, Elizabeth Mathus and Nina Miller for their amazing work!
Posted on Friday, September 06, 2019
Water Conservation Survey
Click on the image to your left for a brief survey that assesses residential water usage and offers tips on how to reduce consumption. It was developed by Nisha Nalawade, a senior at DHS who, through UCONN's Conservation Training Partnership (CTP) Program, is working with the Darien Advisory Committee on Sustainability this summer. Nisha's project will help the town in its application to become certified through Sustainable CT. Please take a moment to complete the survey (one time only, please) to provide data for her research. Thank you!
Posted on Saturday, August 10, 2019
Darien Land Trust's 5th Annual Farm to Table Dinner
The Darien Land Trust invites you to the 5th Annual Farm to Table Dinner on Saturday, August 24, 2019, at Waterbury Field. Cocktails will be served at 6:00 p.m. and the al fresco dinner begins at 7:00 p.m. and it is BYOB (Rain Date: Sunday, August 25).
Waterbury Field is located in Darien, and parking is at Wee Burn Country Club, 410 Hollow Tree Ridge Road.
A locally sourced, creative New England menu offered by Tim LeBant Events of Schoolhouse at Cannondale will be served under twinkling lights at long tables in Waterbury Field. To purchase your wine for the dinner, please visit our sponsor, Wineport of Darien, located in the Goodwives Shopping Center. Recommended wine pairings will be announced along with the menu prior to the event.
The cost is $150.00 per person. Last year, this event drew 250 guests to celebrate the DLT's contribution to the community with cocktails, dinner, and dancing to live music. Tickets sold out fast, so be sure to secure your tickets as soon as possible by filling out the form below. Your information is transmitted and processed securely via Stripe.
Posted on Monday, June 03, 2019
Trails Discovery Day 2019
Sunday, May 19th, 2019
11:00 am - 3:00 pm
Selleck's and Dunlap Woods
The Darien Land Trust and The Friends of Selleck's Woods invites you to a Free and Fun Family Event in the woods for all ages to reconnect with nature and learn about Darien trails! Plenty of parking at the end of Parkland Drive.
Activities include:
Adventure Land with a zipline, rope bridge, stump walk and archery
Nature trails with an interactive guided trail map
Gnomes & Fairies in the Miniature Village
Animals, amphibians and other creatures of the lake
Face Painting
Kids Crafts
Ringside Grill Food Truck will be on location selling hamburgers, hot dogs and drinks
DIRECTIONS TO DUNLAP/SELLECK'S WOODS
(GPS 3 Parklands Dr)
Head towards Norwalk on the Post Road, turn right at Trader Joes/Rory's on to Kings Hwy North. Immediately after you go over I-95, turn right onto Parklands Drive and continue past thebuildings to the entrance of the woods.
Posted on Saturday, May 04, 2019
Panel Discussion: Sea Level Rise in LI Sound Communities
Thursday, April 4th, 2019
6:30 p.m.
Darien Library, Community Room
Save the Sound, Darien Land Trust & Darien Library invite you to:
SEA LEVEL RISE IN LONG ISLAND SOUND COMMUNITIES: THE COMING CRISIS
Our panel of experts will discuss climate change and the ramifications of sea level rise, and answer your questions on coastal erosion, property value decline, loss of coastal habitats, and potential loss of life due to flooding.
Moderated by Curt Johnson, President of Connecticut Fund for the Environment/Save the Sound, the panel includes:
David Sutherland - Dir. of Govt. Relations, The Nature Conservancy
Rebecca French - Director of Resilience, CT Department of Housing
James O'Donnell - CT Institute for Resilience & Climate Adaptation
Wine and snacks will be provided by the Darien Library. The event is free and open to the public, but seating is limited. Please sign up below to let us know you're coming by RSVP-ing via the link below.
https://www.tinyurl.com/SLRPANEL
Posted on Saturday, February 23, 2019
A Guide to Restoring the Little Things That Run the World
Thursday, March 7th, 2019
7:00 p.m. - 8:30 p.m.
Darien Library, Community Room
Join us as we discuss ways in which we can increase the insect population. This valuable population has been on a steady decline since 1974, but we will discuss ways in which we can make changes in our environment to help this population thrive. We'll talk about how we can build beautiful landscapes that will support the pollinators, herbivores, detritivores, predators, and parasitoids that run the ecosystem on which we depend.
Presenter Doug Tallamy will remind us of the many essential roles insects play, and describe the simple changes we can make in our landscapes and our attitudes to keep insects on the ground, in the air, and on our plants.
For more information, visit the Pollinator-Pathway website.
About the presenter:
Doug Tallamy is a renowned author and professor in the Department of Entomology and Wildlife Ecology at the University of Delaware.
Co-sponsors:
We are proud to co-sponsor this event with the Darien Nature Center, The Garden Club of Darien, The Gardener's Center & Florist, Rowayton Gardeners, the Norwalk Land Trust, the Tree Conservancy of Darien and the Darien Library.
Posted on Sunday, February 10, 2019
2018 Annual Meeting - Nov. 11, 5:00pm
Regan Downey, Director of Education at the Wolf Conservation Center (WCC) in South Salem, NY., will be our featured speaker. Regan teaches many of the WCC's onsite education programs and works with groups of all ages to develop engaging and interactive environmental education lessons. After college, Regan's passion for conservation education brought her to the Wildlife Conservation Society where she worked in the Education Department for six months before accepting a position at the WCC as the Youth Education Coordinator. She became the Director of Education in 2018, and works closely with the WCC's Executive Director to develop and execute various conservation and awareness-raising initiatives. Their most recent project emphasizes coyote coexistence and the WCC recently hosted a coyote lecture at the Mamaroneck Public Library, building off of their Coyote Awareness Day series at Muscoot Farm.
A short business meeting will precede the presentation by Regan Downey and DLT Members will be asked to approve a slate of Board of Trustees, including new Trustees Susan Balloch, Elizabeth Mathus, Michael Sgroe, and Timothy Stisser.
Refreshments will be available.
Posted on Tuesday, October 23, 2018
October Film Series: "Wasted"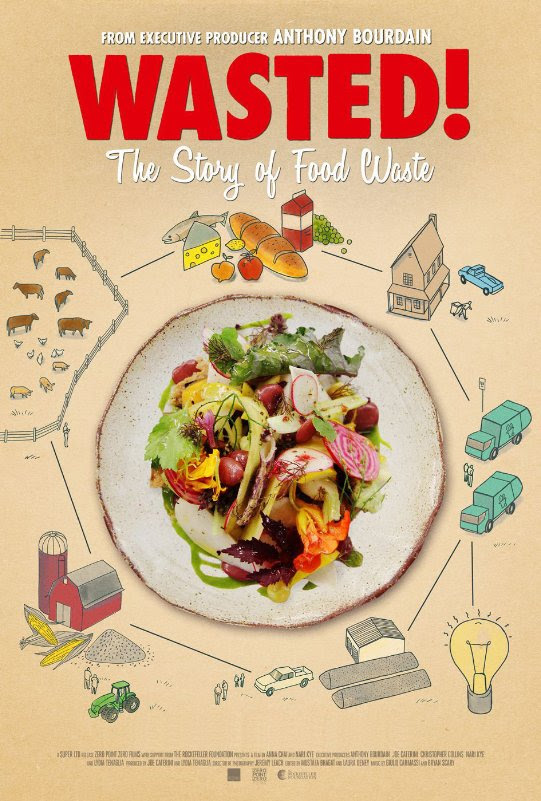 Join us at the Darien Library on Wednesday, October 24th, at 7 p.m. for a film screening of Wasted!.
The final installment of our October Film Series offers Wasted!, the Story of Food Waste, a feature-length documentary that will change how people buy, cook and eat food.
Through the eyes of chef-heroes like Bourdain, Dan Barber, Mario Batali, Massimo Bottura, and Danny Bowien, audiences will see how the world's most influential chefs make the most of every kind of food, transforming what most people consider scraps and rejects into incredible dishes that feed more people and create a more sustainable food system. The film also features several food waste reduction stories all over the world including waste-fed pigs in Japan, a disposal program that has reduced household food waste by 30% in South Korea, and a garden education curriculum New Orleans. WASTED! The Story of Food Waste showcases forward-thinking leaders who show how each of us can make small changes - all of them delicious - to solve one of the greatest problems of the 21st Century.
This last installment of the October Film Series is co-sponsored by Darien Library, Planet New Canaan, The Darien Environmental Group and Darien Land Trust.